If you are searching for the perfect collagen supplement to help fight the signs and feelings of ageing, then you need not look further than science backed collagen peptides from Rite-Flex®.
Rite-Flex® is proud to source the finest collagen peptides currently available on the market. We source our collagen peptides from Rousselot, the leading provider of collagen in the world. The company has over 129 years of experience in the field of collagen. We believe in partnering with the best!
In this article, we will take a look at some of the reasons why you should choose science backed collagen peptides from Rite-Flex®, whilst also addressing some of your most frequently asked questions.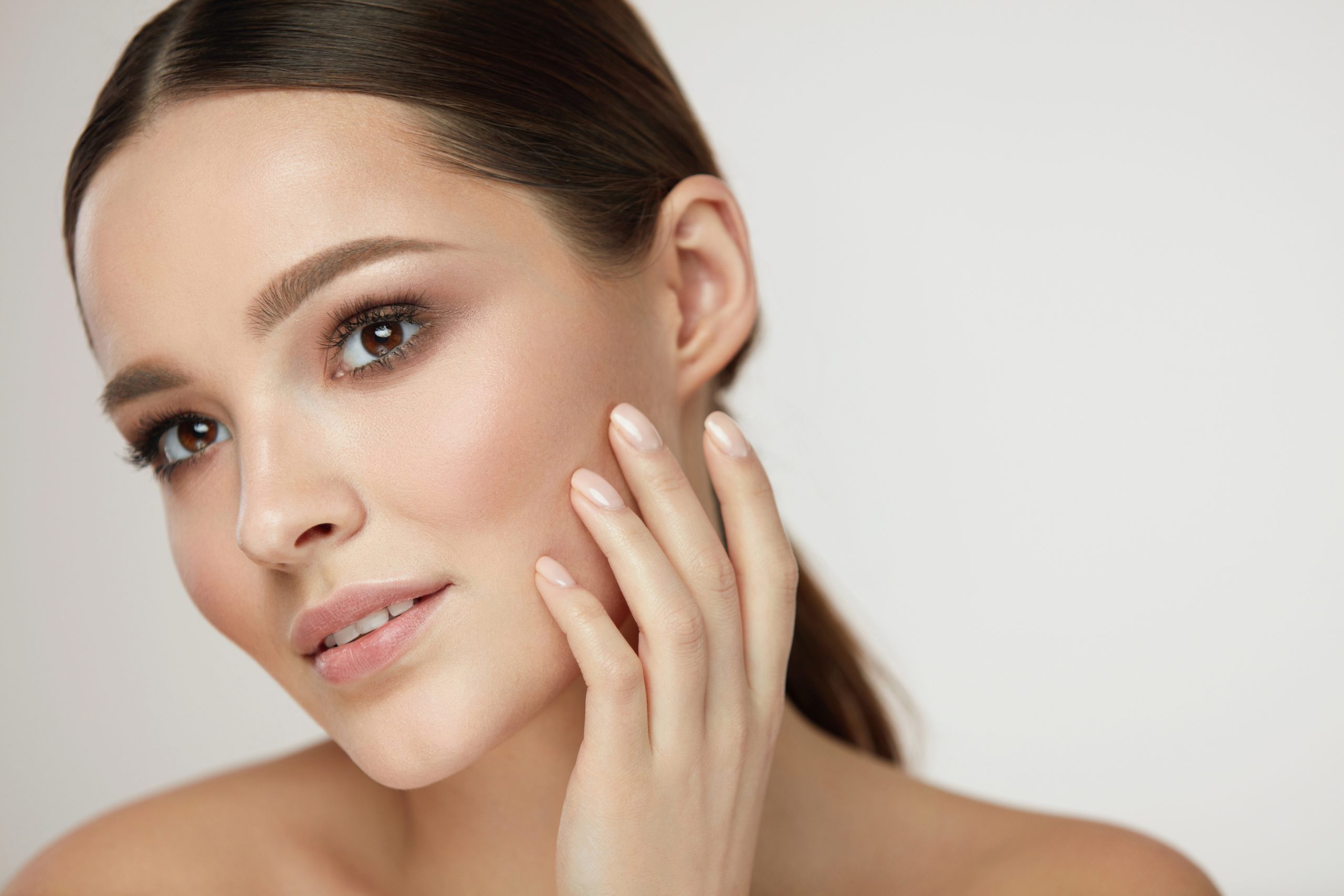 Why Choose Rite-Flex® Over Other Collagen Brands?
Peptan® is the world's leading premium collagen peptides brand owned by Rousselot, and is completely backed by scientific evidence. Over the years, Peptan® has published results from a number of clinical studies, all showcasing some of the main benefits of their products for the likes of skin beauty, joint health and recovery from exercise. Since Peptan® is an ingredient manufacturer, it is a perfect partner to Rite-Flex®.
Produced in state of the art manufacturing facilities, Peptan® specialises in type 1 collagen peptides and boasts a high-purity, bioavailable, natural product which contains more than 97% protein (on a dry weight basis). With such a high percentage of protein in each scoop of collagen peptides, you can be rest assured your body will receive the support it requires.
Rite-Flex® collagen is extremely easy to integrate into your daily diet, as you can add it directly into food, smoothies and drinks.. Whether you want to have it with a cold drink or a piping hot meal, Rite-Flex ® collagen peptides can be easily added to any diet.
Benefits Of Collagen Peptides
Collagen is essentially the building block for most of our organ systems and makes up approximately 30% of the proteins in our body, so it's obviously a pretty big deal! It is also the major component of connective tissues that make up several body parts, including tendons, ligaments, skin, and muscles. While the body does produce some of its own collagen, as we age this production slows and simply isn't enough to sustain our requirements.
That's where collagen peptides come in. Thanks to collagen peptides' high bioavailability, it can be easily absorbed into the blood stream because of its shorter amino chain structure. If you choose to purchase our collagen, you'll find that it is comprised of 97% protein (dry weight), so you are sure to be gaining maximum benefit from each scoop you take.
Collagen peptides can help maintain healthy:
Skin
Hair
Nails
Joints
Muscles
Heart
You can find out more about the benefits of collagen for hair, skin and nails by reading our in-depth blog post on the subject.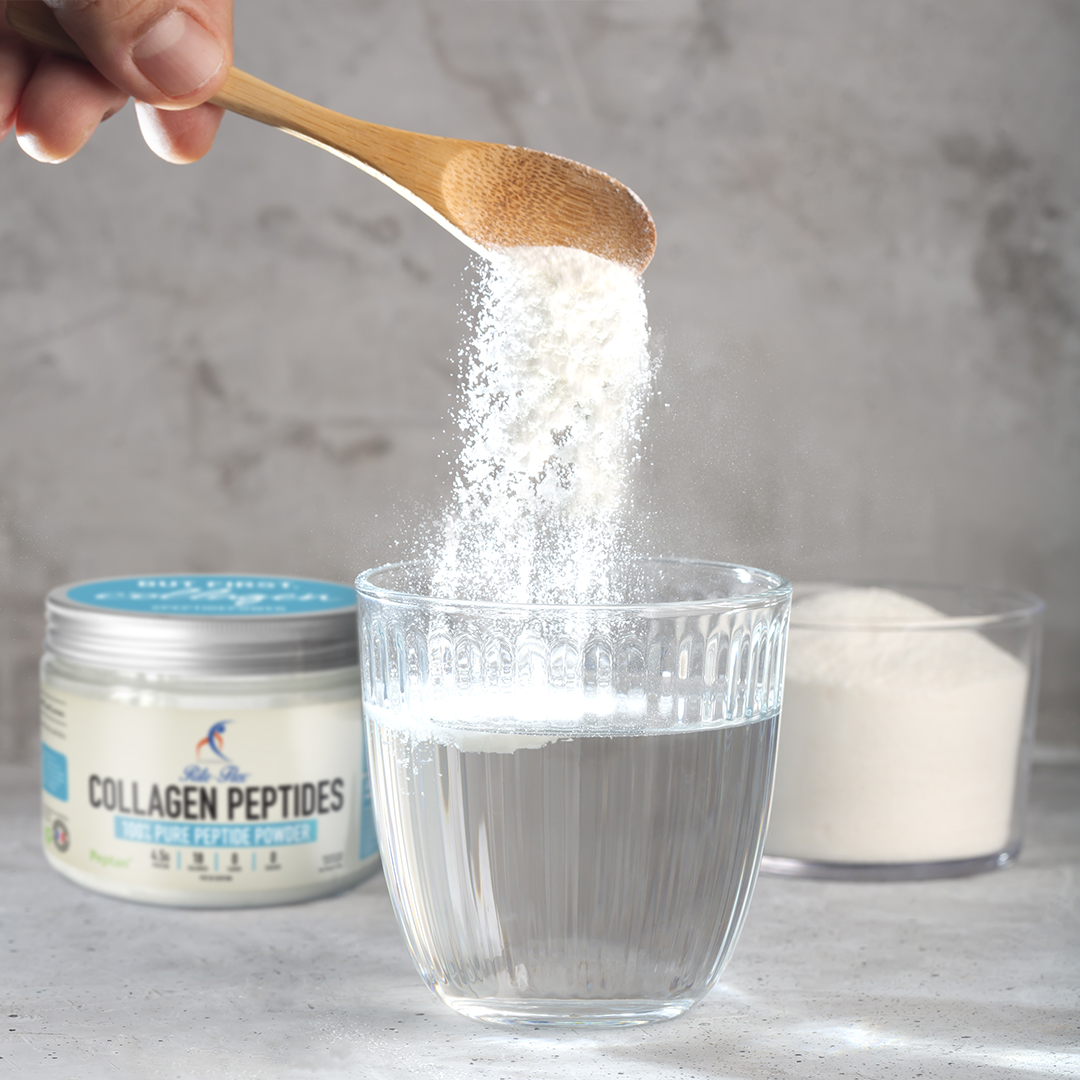 How Do I Take Collagen Peptides?
That is completely up to you! One of the biggest benefits of taking Rite-Flex®collagen peptides, over other collagen products, is how easy it is to integrate into any drink or meal.
That's why so many people, both young and old, turn to collagen peptides to reduce signs of ageing.
It is highly soluble in cold water. No blending necessary! It is neutral in taste and has no odour. No awful tasting, clumpy protein shakes here! Last but not least, it's heat resistant. It can be added to hot teas, coffees and even baked in cakes. Collagen matcha latte anyone? How about a healthy bowl of banana and blueberry collagen oats!?
You can find a huge number of healthy and extremely delicious recipes on our blog page, all of which incorporate our collagen peptides into the recipe. We also have tons of healthy and hearty recipes on our Instagram. Be sure to go and check our recipes out and share your pictures on Instagram with us @Riteflex. We love to see how our passionate collagen community use collagen peptides in their diets!
Who Should Be Taking Collagen Peptides?
Collagen peptides are perfect for customers both young and old. Scientists have found that our bodies' natural production of collagen begins declining around the age of 25, so collagen peptides are an ideal supplement to take any time.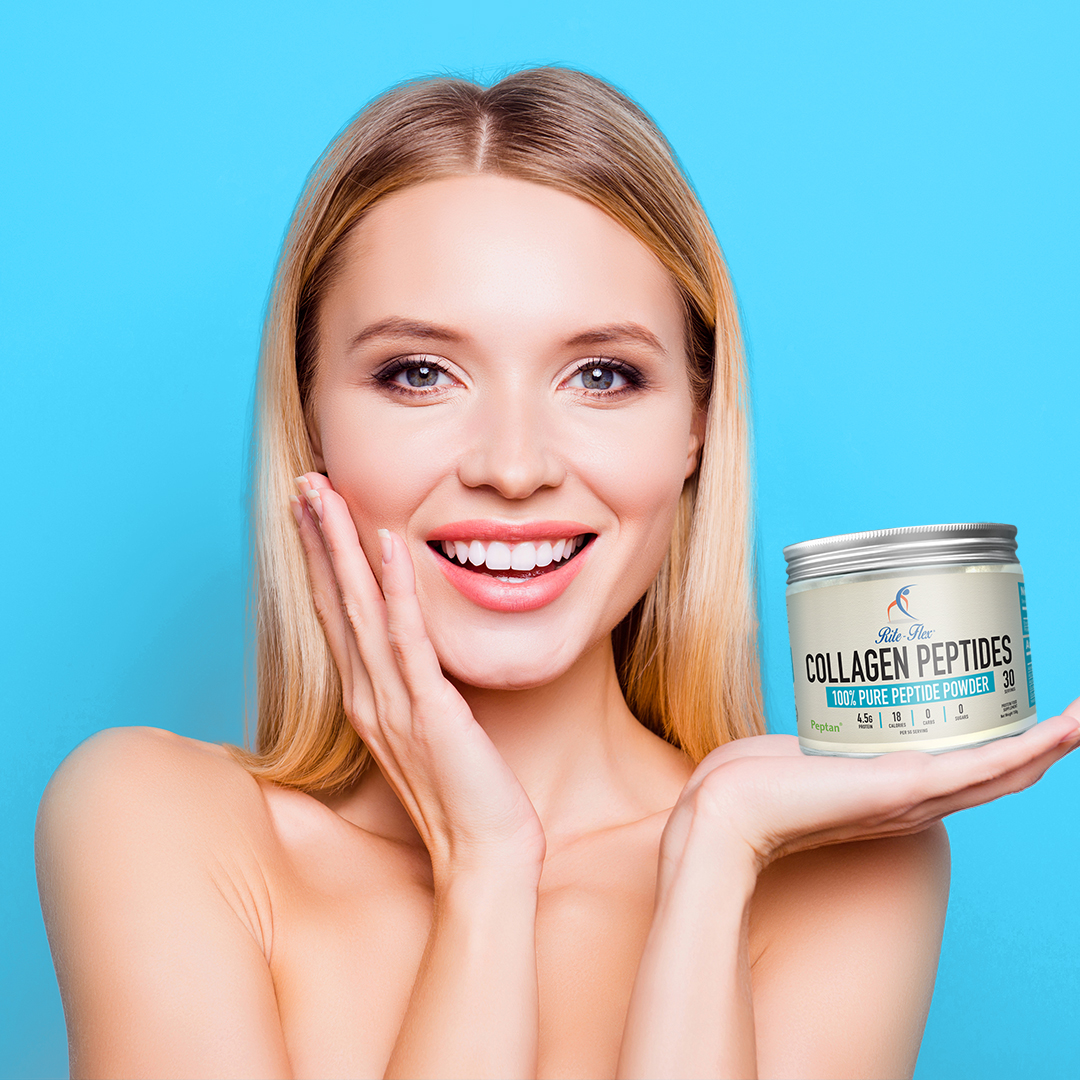 If you would like any more information about the collagen peptides on offer here at Rite-Flex®, please don't hesitate to get in touch with our nutritional experts today. We would be more than happy to assist you further. Drop us an email on contact@riteflexhealth.com Or simply message us on Instagram @Riteflex and we will be in touch with you shortly.